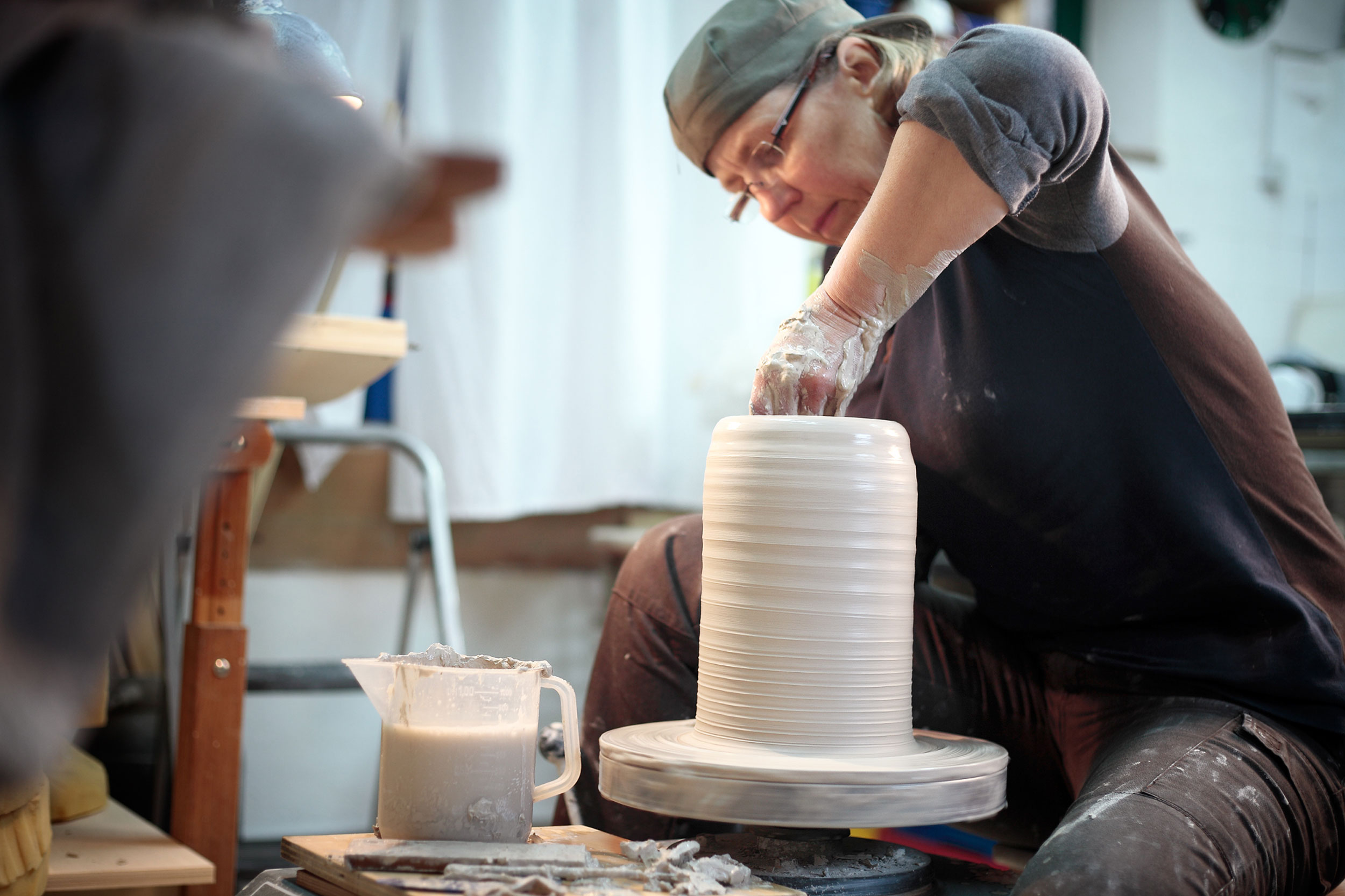 Biography
Biography
Biography
Karin Putsch-Grassi was born in Germany in 1960. She did her apprenticeship in Albrecht Kiedaisch's Ceramics studio in Tübingen. In 1982 she went to Florence, where she earned a "Maestro d'Arte" diploma at the "Istituto d'Arte" under the ceramicists Salvatore and Stefano Cipolla. 
She realised her first ceramics in her own studio, where she experimented with local clays, glazes and firings. To this end, she built various wood-burning kilns that were always more sophisticated in their structure and dimensions. After attending several workshops given by John Colbeck, in 1989 she moved to London for a year and took a postgraduate diploma in ceramic art at the Goldsmiths' College. She then moved back to Tuscany, where the birth of her three children inspired her to undertake an enthusiastic teaching career.
She has participated in various seminars all over Europe, where she has been able to explore always more innovative techniques under the Master Ceramicists Takeshi Yasuda, Ruthanne Tudball, Wally Keeler, and Daphene Corregan.
Karin Putsch-Grassi's works have been displayed at numerous exhibitions and museums throughout Europe. Moreover, they have also found a highly-appreciated place in private collections.
She became a member of the International Academy of Ceramics in 2019.
| | |
| --- | --- |
| 1981 | Apprenticeship in the ceramic studio of Albrecht Kidaisch, Tübingen, Germany |
| 1983–1986 | Master degree "Maestro d'Arte" in ceramics, "Istituto d'Arte Florence", Italy |
| 1989/1990 | Post graduate diploma in ceramics, "Goldsmiths College London", University of London |
| | |
| --- | --- |
| 2022 | Built a wood-fired soda kiln with Joe Finch and hosted an international workshop, La Casina, Italy |
| 2019 | Curated Clay Collective Biennial Symposium, La Casina, Figline Valdarno, Italy |
| 2019 | Established a ceramic studio and gallery, La Casina in Figline Valdarno, Tuscany, Italy |
| 1993 | Opened the Arte Ceramica studio in Reggello, Tuscany, Italy |
| 1986 | Set up own ceramic studio in Figline Valdarno, Tuscany, Italy |